A view to the future of spin in the hands of a retired player of yesteryear represented by Gerardo Montero.
An artistic video: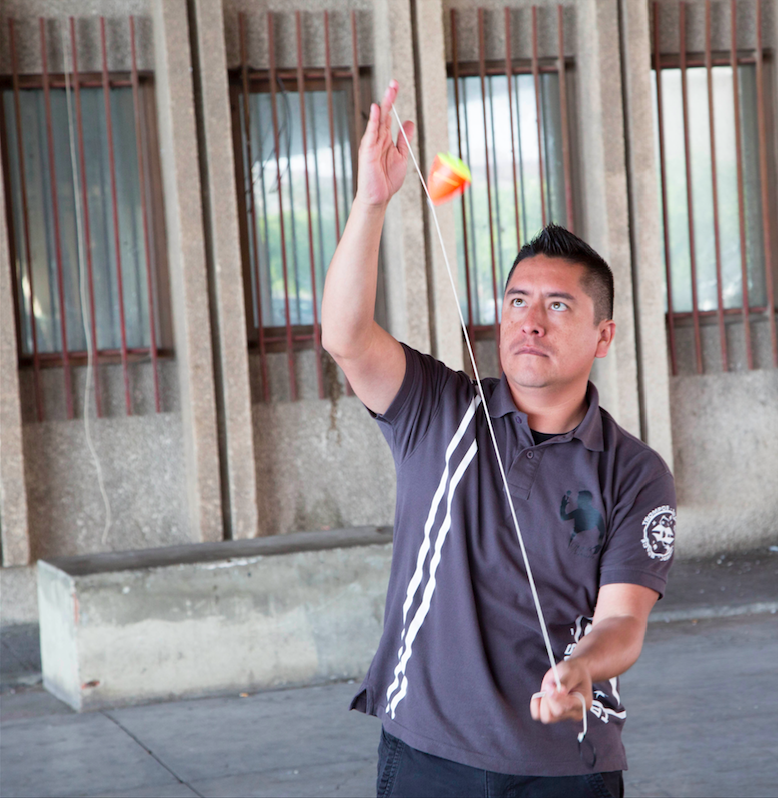 Gerardo Montero
Campeon from Xalapa, México
Extracted from his website:
Read more

His study in the art of magic gives him a great ability to connect with the public and makes watching him playing at the spinning top a pleasure; it is not surprising that he is the champion most sought by both fans and the media.Proof of this is its collaboration in numerous top-rated television programs such as El Hormiguero de Antena 3, Todo el Mundo es Bueno de Tele 5, without forgetting the spot of the famous Gatorade drink brand that starred for the US network MTV in the one who, with his inseparable top, Gerardo came to the screens of homes around the world with the campaign "Life is a game".He has been working for more than 15 years professionally at the acrobatic top and taking his art all over the world with

Trompos Space

. In all these years he has created many tricks that identify him as "El torero", "The double cable car" or the "Circuito de Gerardo Montero", tricks that nowadays are repertoire of diverse fans and that you can learn exclusively through the section "tricks of spin" on our website.In the international arena there is no doubt that Gerardo Montero is the best champion of acrobatic spin that exists and the only one that disagrees with that statement is Gerardo himself. Due in part to the fact that, thanks to his intuition and great experience, he is the great discoverer of Javi Demaria, a kid who surprised him from the first time he saw him playing at the top and who hopes and trusts his witness and leads the world from the top to its highest levels.We know that an affirmation of such caliber is the result of that humility that only the big ones have, although taking into account the trajectory of the young Javi Demaria, it is very possible that Gerardo is not misguided when affirming this. Wherever it goes, it leaves a trace; infinity of children from many different countries have begun to play at the top of the hand of Gerardo Montero sharing their ideas with him, the same that today are part of his repertoire and others that have served as inspiration for the creation of new techniques.Do you dare to send your tricks to the champion?